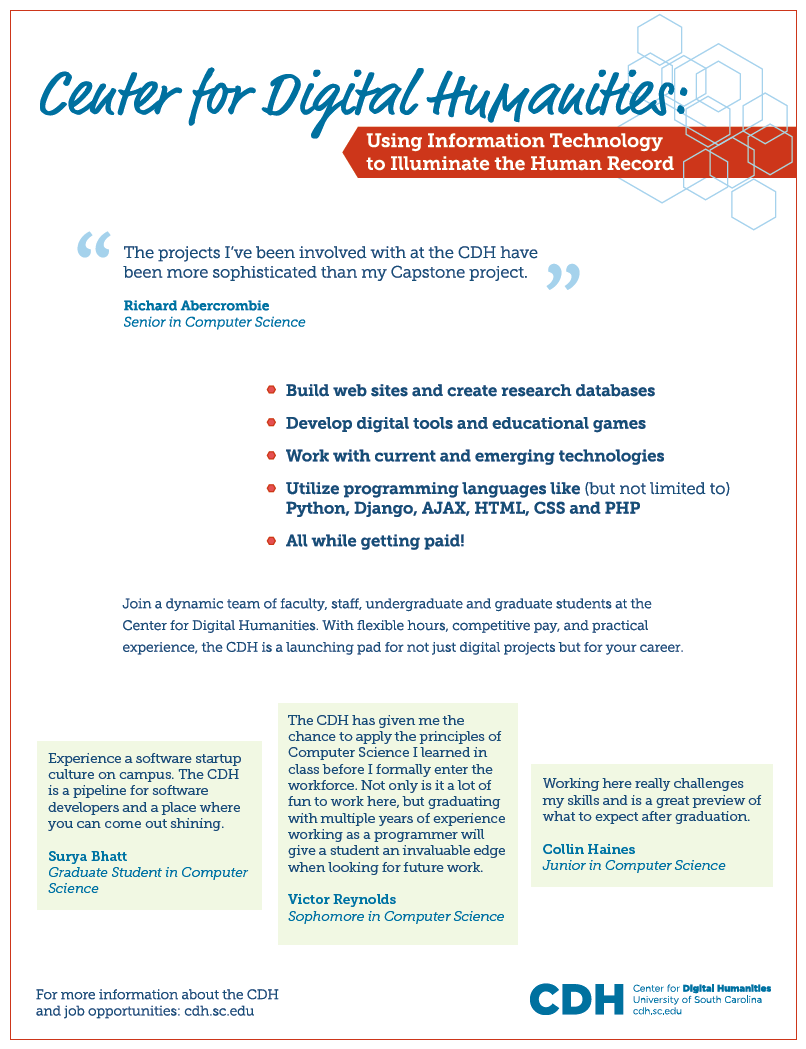 Spring, Summer, Fall
The Center for Digital Humanities (CDH) at USC is hiring student programmers to work on projects. CDH is a lab that creates software, databases and other types of digital tools that aid research and teaching in the Humanities. Projects frequently involve creating relational databases, parsing text and creating UI's (with help from our web designer). Aside from programmers, our staff also includes humanities faculty and graduate students, library and information science students, and graphic and web designers.
We are physically located in Thomas Cooper Library at USC. CDH employs both undergraduate and graduate workers during the semesters and over the summer. For graduate students, both hourly wage positions and GRAships may be possible. We pay highly competitive wages and stipends.
Ideal Qualifications
Willing to learn new software and languages
Have experience with relational databases
Already know 2-3 programming languages (many of our projects involve Python, Django, Java, PHP)
Available to work on campus Autumn and Spring for 10-15 hours per week
Most projects involve team work, meaning that communication skills and cooperation are important.
Both graduate and undergraduate students are eligible to apply. Positions begin ASAP. Work must be done on site, between 9 and 5, M-F. Programmers will work closely with other CDH staff. Summer work is also possible after positive performance record has been established.
To apply, email John Knox (johnthomasknox@gmail.com) to introduce yourself, describe your skills and relevant work experience. Please include resume and 2 professional references (one may be a Computer Science instructor who knows your work). See Job Mate (sc.edu/career/) posting #27780, "Part-Time Student Programmer."